In the special vocabulary of entertainment business, the word star is more abused and less well defined than almost any other. We often talk about star quality, but I have come to believe that it's a very special combination of qualities, embodied in one personality that has an immediate and lasting emotional impact on the audience.
John Wesley Shipp is a perfect example of this, and the audience to his natural warmth, strenght and sensitivity, in combination with a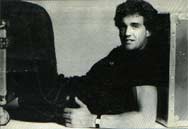 splendid acting talent and rare musical gifts, would certainly seem to suport this theory. Only an audience can create a star, but only a performer who can offer them a combination of talents that's totally his own, and therefore both individual and unique, can ever hope to earn the title, John Wesley Shipp qualifies on all counts.
Douglas Marland - Executive Producer of Guiding light - CBS